Do you daydream about being your own boss and get irritated when other people start businesses that take off? Do you think you can't make it because the deck is stacked against you and you can't change that?
That will get you nowhere. Today is a new day: opportunities for entrepreneurs have never been greater. The global economy, the internet, and the rapid growth in websites that make funding your business easier than ever before all come together to create massive potential for new businesses.
Over 22 million of the small businesses in the U.S. have a self-employed owner and no employees. Most are sole proprietorships, the easiest and cheapest type of company to set up. Over half of U.S. small businesses are home based – the least expensive approach for a business.
Today a good idea and honest hustle can launch your business. There are basic things to know and tools to use. Most of those are available now at little or no expense – no MBA required! And there are more people than ever who want to invest in people like you.
Search Topics
Discover your program today!
July 2019 Ideas
Everyone seems to have advice, but what are some of the best ideas at this time? And by "best" we mean ease of start-up, lowest cost barriers, and even the fun factor. Of course what's viewed as fun will vary from person to person. So here are some of the ones that look the most promising to us based on our review of hundreds of possibilities:
Run your own ice cream shop;

Good at social media? Offer your services to businesses that don't get it;

Become a real estate agent;

Hit flea markets, spiff items up and sell them on facebook'

If you love beer, how about starting your own craft brewery?
OK you've decided this is it and you're ready to hustle. Where do you get the good idea? If you already have it, great. You can test it against the criteria discussed in this article. If you need an idea there are a number of possibilities, some better than others. Let's take a look at some of them and their advantages and disadvantages:
Update February 2018: Take Advantage of the Gig Economy
There are lots of opportunities these days to start your very own one-person business. In most states it's pretty easy to get a license and to create your official business name. Then you can offer your services to businesses and individuals as a sole proprietor business. If you're already pretty much an expert on something like social media, you could set up a consultancy to help businesses that are not as savvy about todays options, especially more graphic media like Instagram and Tumblr. Or, on a less tech basis, if you're a pretty great organizer and enjoy helping people, you could offer your services to help others get control of their clutter and "stuff." The market for such services may be increasing with aging boomers downsizing and growing interest in "tiny houses."
Stay tuned for regular updates in this section about other small business ideas ideal for the current economy.
Do you have a service to offer but you're not sure how to promote it? And maybe you feel a little uncomfortable about just making "cold calls" or walking around knocking on doors in your neighborhood. But don't let that stop you! Check to see if the "NextDoor" app is in your area — it probably is! Sign up and see how easy it is to post to it to communicate with folks in a pretty wide range of where you live. There are special categories like if you have something to sell or give away, if you are looking for someone to perform a service like dog walking or being a mother's helper or any number of activities. You might find someone looking to hire someone to do what you can do, or you could attract customers if you post about your specialty. Great way to get started without having to pay for any advertising!
Learn from other entrepreneurs
Where have other successful entrepreneurs found their ideas? The Wall Street Journal interviewed some startup mentors as well as investors and professors who have heard from a lot of start-up business founders. Here's a brief summary of a few of the most frequent sources they encounter:
look for a problem that's important to you and needs a solution: maybe others are looking for that solution too;

pay attention to problems other people are having too;

don't assume you're too old to start a new business! You may hear about youngsters making millions these days, but the more typical entrepreneur is actually over 50. Energy and drive are more important than your age;

look beyond your own comfort zone and industry to see how people are solving problems. You might find a new approach that you can apply to your issue. And keep in touch with the arts to stimulate your creative side.

Here's a good piece of advice you may not like much if you're the impatient type. But it could save you time and money, so consider it carefully. A very useful report ini the Wall Street Journal reveals that many entrepreneurs have found it important to begin building their new business while they still have a full time job. This strategy could allow you to flesh out your idea while you are under less pressure than you would be if you urgently needed to get some money coming in. Of course you need to be able to keep up your performance at your current job, which could be a challenge. And it means probably having little or no personal life. (You must also be sure never to spend any current job time or resources on your new business!)
Franchising: This is a tried and true approach, kind of like buying a business in a box. You can easily find information about franchise opportunities on the web and in magazines. Sometimes there are special opportunities directed at helping veterans or members of minority groups get started in their own businesses. You can learn about some of those in our article about small business financing opportunities. You get the benefit of a proven business with research indicating potential in the area you select. And you typically get plenty of training so you know exactly how the business should be run.
A big disadvantage is that franchises are typically pretty expensive. There are some that are less than $10,000 to get into —others cost more than $5 million! The typical range is between around $50,000 to $200,000. That's a whole lot of money for most of us. Another potential disadvantage is that if you want to be your own boss, know that while you do operate your franchise you don't generally determine how you run it. In many ways you're not really your own boss, and that may not make you happy if you really want your own business. But definitely check out the many directories available online and if you have the capital and there's a franchise you could have that you're really crazy about, that may be just the thing for you.
Startups with almost zero initial cost: Eager to start your own business but you really don't have much money to get things going? And you're not crazy about jumping through hoops to try to get a loan? Consider starting a business that costs next to nothing to begin — except for your time and effort. Better yet, it could mean spending all or most of your time doing something that you absolutely love. If you have a passion, or even just a serious interest or skill set, in something popular, consider starting your own blog. Super easy to get started — use Wordpress and do it for free, or buy a domain name and pay for hosting. Work on creating great content that others can benefit from because of your experience and ability to communicate. Be patient — read up on what makes a great blog and what is the best way to get people engaged. Once you build up a sizable following, you could sell advertising on your site or even get sponsored ads. You could earn money as an affiliate by recommending products that have something to do with your main topic and earning a commission on each sale. Eventually you could even package some of your best content in the form of a hard copy book or ebook and sell your own information product.
Not that crazy about writing? Then maybe a blog isn't right for you. What do you like to do, and what are you good at? Take a look at your bookshelves: what's the topic most represented there. That will give you one clue. Or think about businesses you can start typically for less than $2000 and which could be fun for you and a money maker. Some examples would include being a personal shopper if you're creative and stylish and considered to have good taste; starting a business throwing kids parties. Such businesses usually charge between $20 to $100 per guest and net revenue of about $370 per party. Or how about spending your time at flea markets or online and finding clothing you can buy cheap and resell with your superior marketing skills on eBay or Facebook or Etsy?
Other people's ideas: Plenty of websites and magazines will give you lists of ideas for new businesses which should be in great demand now and in the near future. Too often (in our opinion) the ideas require some very specialized knowledge and/or training that not many people have. That doesn't mean that you shouldn't take a look! One of them may strike a particular chord with you or stimulate your thinking so that you come up with an idea that excites you. Running a business does take work and it's a whole lot easier if you are doing something that you love. Or at least like!
An interesting place to look at other people's ideas is on Crowdfunding sites. There you can see what people are trying to raise money for, how they tell their stories, and what kind of results they are getting. This could also be a way for you to raise the startup money you need.
How about your family for a source of ideas? Recently one dad got a big idea when his 7-year old daughter asked him how to code. With the help of a local business accelerator program he and a partner put together a successful Kickstarter campaign and launched their new business. Called Bitbox, it offers subscriptions for kids who want to learn coding (great setup for their future!). Each month the child receives a package that includes instructions for some simple coding activities plus stickers and other fun things that appeal to kids. And they're doing very well! So pay attention to your family — what they need, what they talk about and love. Could be a winner for all of you!
Look around and look inside: Here's where things get interesting. You know you want to start your own business but you're not sure what you might do. Take a look at a couple of things:
Is there something you have been looking for but can't find to solve a particular problem? Have you – or could you – come up with and create your own solution? Are there other people out there with the same problem (and do they know they have that problem)? Perhaps that is your marketplace. Many buying decisions are made based on avoiding pain or enjoying pleasure … and it's been demonstrated that avoiding pain is the stronger of those two. Of course you need to know if there's much of a market for your solution, but the idea is a start.
Remember when thinking about your new business that it will only be successful if it solves some sort of problem. This might be a product or service that is totally new or it might be an improvement to something already available. Keep your eyes and ears open for what people complain about whether they're your friends, your family, or people whining about something on social media sites. Ask people what sort of product or service they think would improve their lives.
Is there something you are particularly good at and enjoy — and is it something you could teach others or make easier somehow for others? How would your skills help someone?
Those are two good starting points to identify a meaningful business you could run with – and enjoy. In today's environment you can start to run with it without creating a long business plan or doing extensive market research to document your findings for a bank. Businesses can be started on very little money these days! You can create a website for free (check out wix or weebly), do surveys, and create free squeeze pages to test your idea. You can basically take orders first and only then incur the expense of manufacturing or creating your product. If you have an idea, figure out what you will charge for it and how you will get paid. Then much of your preparation handled. If you can also specify how your product or service helps your customer and how he or she will learn about it you're even farther along.
As you settle on your idea don't let your excitement cause you to make bad decisions. It's a good idea not to give up your day job right away, no matter how great an idea you have. Keeping your job gives you some financial stability while you work on your plan. You'll need plenty of energy to do your paid job well and keep working when you get home … but that's what it takes. The sacrifices can be tough but hopefully the rewards will be worth it if you can get your new venture off the ground. One good idea is to get a business partner to help out with some of the tasks that take up your time. Grad students can be a good option — they've got smarts and always need some extra money — or the promise of some if your projects takes off. A partner also brings another perspective and a chance to test your idea.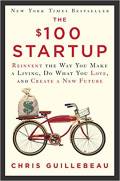 To further stimulate your thinking and your ability to take action we recommend an excellent book called "The $100 Startup". It is very complete, contains actionable advice (i.e. the specific steps you should take) and has lots of examples and case studies that will enhance your learning and give you some great ideas. It is easy to read and not too long — it's even available instantly in a Kindle edition (along with hardcover and paperback). Check it out to see how you might actually get your own startup going for less than $100.