The good news: There are grants available for women-owned businesses. However, none of them come from the federal government. Yes, President Obama proclaimed March as "Women's History Month" but he did not announce government funds earmarked for women's business purposes. The federal government does not directly award grants to women-owned small businesses to help them get started or to grow, period.
There is still good news: Opportunities and Resources for Women-Owned Business do exist even if they don't come from Washington DC. The Office of Management and Budget (OMB) did say that the president's proposed budget would help women-owned businesses because it would support growth and lending, give small businesses greater access to credit, and reduce small business taxes. Expect a more favorable business environment in the coming year!
Ignore advertising pitches that claim they'll get you federal funding. Focus on real opportunities for entrepreneurs. Women are occupying more and more high-level positions as well as starting new businesses at a very high rate. And they're getting a boost from the woman who heads up the SBA:
Search Topics
Discover your program today!
Update Julay 2019
So this is not technically a grant but it is a great service that doesn't cost you anything — and you don't have to pay anything back. The Small Business Administration is conducting "summer school" through its Learning Center with free online courses. They're all about starting and running a business and feature topics like marketing, finding financing, providing customer service, getting into exporting, government contracting and more - including a special review of resources and assistance available to Alaska Native Business es.You can take a look at the courses that are being offered at the sba website.
News October 2018 It's a pretty well known fact that women find it harder than men to raise venture capital. That's particularly trall ue for people of color as well as for women in particular, since investors tend to be most comfortable with people who are like them — and most of "them" are white men. Things are starting to change though. Some firms are making a focused effort to diversify who they invest in. Some require that a certain percentage of their portfolio be in companies with a female owner and/or a specific portion in companies founded and run by one or more persons of color. An outfit called Backstage Capital started a $36 million fund specifically for funding black women entrepreneurs. And they plan to raise $100 million in order to invest in entrepreneurs from other backgrounds who also tend to get short-changed in the competition for investment funds. Other companies including Unusual Ventures and Plexo Capital are also focusing on supporting underrepresented groups of people.
Update April 2018 Remember to look into micro lenders if you're having trouble finding money for your business — especially if that's because you don't have a great credit score or any collateral to put up to qualify for the loan. Microlenders such as Grameen America offer loans to women who have support and encouragement from other women borrowers. They meet regularly as a group, often in someone's apartment. Attendance is logged and payments are made on existing loans. The women are committed both to Grameen and to the other women — also borrowers — in the group. Loans of $500 and up are repaid on a declining balance; the interest rate of about 18% goes down as the balance goes down. There is very little paperwork and the focus is on making things simple. Very worth looking into if you're in New York City or other cities where Grameen America operates.
Women owned businesses - and businesses with women on their board or as CEO - are considered a good investment these days. Major investment firms like Morgan Stanley and Barclays have started index funds featuring such firms. That indicates an expectation that those firms can expect superior performance – and a confidence in women. And it reflects a potential for increased investment in businesses owned by women.
Update May 2017
Fortune Magazine recently highlighted the fastest growing women's businesses in the country and included some tips from their owners. One was that you shouldn't hesitate to go for your dream because your think you're too old. The president of the top ranked business in their study started her business at age 53…so maybe you should just go for it. They also featured a Glassdoor study that identified the five college majors where women graduates tend to earn more than men do after their first five years on the job. These included Advertising, Architecture, Social Work, Music and Environmental Science.
News November 2016 The Minority Business Development Agency has announced a new platform that should be a real benefit to women who are planning, starting and/or managing their own business. It's (somewhat awkwardly…) called "The Grow Her Business". It's a new platform that claims to bring together from many different sources all the information a woman entrepreneur could need to find helpful resources and make her business successful. The searchable database currently highlights close to 200 highly regarded programs that focus on growth, from coming up with ideas (referred to as "ideating") to actually starting and growing a business. The platform is a joint effort of the Small Business Administration (SBA) and the National Women's Business Council.
News March 2015 Good News for women-owned businesses! In 2015, for the first time ever, the U.S. government has reached its new goal of 5% women's small business contracting goal. That means that of the $90.7 billion in contracts that the government awards each year, a little more than 5% of those contracts went to businesses owned by women! This is a wonderful - and historic - way to start National Women's History Month! It may not sound like a huge number but it represents almost $4.6 billion in revenue value for those women-owned companies. Many thanks to the work of the SBA helping to make this happen!
News: The SBA has announced a new competition called InnovateHER. Though it's not just for women, it is a challenge to entrepreneurs to come up with innovative products and services that:
- have an impact on women and families

- have the potential to be commercialized

- fill a market need.
Total prizes to be awarded equal $30,000. Learn more at Fund a Startup Business and at the SBA.
State Specific Grants: It's always wise to start looking for grants on your own state's main website. Just go to that site, go to the Business section, then look for grants that are currently available. There will often be special grants which are offered for women and minority owned business ventures. If you happen to live in Utah or Idaho, for example, you can apply for the "Smart Women Grant." It is offered each year to women in a number of different categories including business. (Others are Community Development, Continuing education and teacher support, Child and Care of the Elderly, Culture and the Arts, and Health and Human Services.) The awards of $3000 each are given out each year to a winner in each category. The submission period for 2015 has ended but you can take a look at their website to learn about past winners and get prepared for 2016.
More Grants for Women in Business:
Of course you can get a lot of information and support from the resources listed in our "gender-neutral" article on Grants for Business. For women starting a new business be sure to see Small Business Grants for Women. It shows you an exciting – and relatively new – way to raise money that you should be using. Women are way outperforming men with this resource, don't ignore it!!
Our focus here is the availability of women-specific educational/inspirational as well as financial resources for either starting or growing their own business. Following are overviews for some promising examples of each :
The Small Business Administration: a good place to start for the basics. Though the SBA does not award grants, it does provide government backing for small business loans through 3rd party lenders, and they can direct you to possible sources of financing. In fact as part of the Recovery Act the SBA has helped back over $16 billion in loans that went to small businesses, and they report that 20@ of that money has been loaned to businesses owned by women.
Under the impressive leadership of Maria Contreras-Sweet, the SBA has made some excellent progress in improving the flow of capital to small businesses, and in particular to those owned by women and minorities. These groups are three to five times more likely to get an SBA loan than a traditional bank loan, and in the past year loans to women have gone up by 24%.
The SBA also provides a myriad of services in general and you can discover how to get the most out of it in our review of the SBA website. They specifically support women entrepreneurs through a network of Women's Business Centers. Offering both technical and management help, they are particularly interested in helping those who are challenged economically or socially. They offer support in a number of languages. You can learn more by visiting the sba.gov website and going to the Office of Women's Business Management.
The Minority Business Development Agency also has special programs, training and financial support resources for women who are also members of a minority. Recent programs have specifically promoted Latinas and young Spanish speaking entrepreneurs. It's worth taking a look at even if you are not in a minority group!
Microfinance Options: If you need more one-on-one ongoing support and are interested in a microloan, check out our articales on Microfinance in the United States and Microfinancing Opportunities. Many of the beneficiaries of these programs are women.
A Timely Book: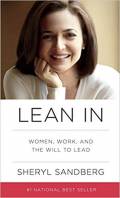 Women, Work and the Will to Lead by Sheryl Sandberg (Chief Operation Officer of Facebook) is a though provoking and inspiring book for women in business (or thinking about business). Serious and often humorous Sandberg offers informed opinions and advice for women who want to achieve both professional success and personal fulfillment.
The Cartier Women's Initiative Award: This is an impressive award designated for a for-profit business in its early stages (not older than 3-4 years, depending on the stage of development and sales). A woman must be the primary leader of the business. Contestants are drawn from around the world but must have a good command of the English language. Judges look for an innovative concept, a unique approach within the applicant's country or marketplace, the potential for significant revenues and indicators of likely ongoing success and growth. Environmental impact will also be assessed. The application for this award must be top notch! See the Cartier website to learn more about the application process and requirements and be sure to investigate their toolbox section for guidance. You can also look at previous winners to better understand what is important to the judges.
Company Specific Grants:
For the past several years Huggies has conducted a program called the "Mominspired Grant Program." Designed to encourage moms with creative ideas for products, it awards up to $15,000 to as many as 8 women to move forward making their idea a reality. Other companies that cater to women, moms and parents in general also sometimes create special award programs to support women and their businesses (or dreams of a business). Keep an eye out for your favorite brands to see if they run a similar promotion or contest to help get your business started - don't throw out those fliers you get before you read them!
Women are a priority of the Coca Cola Foundation. Each year they fulfill a commitment to give out an amount equivalent to a percentage of the previous year's operating profit to a variety of recipients. With regard to Women their focus is on women's empowerment economically, including entrepreneurship. If your nonprofit — or one that you know of — operates programs which support women in these ways you (or they) could receive funds from this foundation. For example, in 2016 ACCION Network received $125,000; Black Culinarian Alliance received $100,000 and the Black Women's Agenda, Inc. received $100,000. Each of these organizations help women learn how to start and manage a successful business.
The Eileen Fisher Business Grant Program for Women: This program awards grants—sometimes as many as five—in the amount of $12,500 to those with winning applications. To qualify, your business must be based on an innovative concept, be sound and sustainable from an environmental standpoint, be owned 100% by women and run over 50% by women, and currently be either at the start-up stage or 3 years old or less and ready to tackle the next stage of your business plan. You must also be either a for-profit business or a "social enterprise" — part for-profit and part non-profit (hybrid). You must have a solid business plan and show clearly how the grant money would help to advance your operation. Learn more at the Eileen Fisher website.
Company Specific Grants: For the past several years Huggies has conducted a program called the "Mominspired Grant Program." Designed to encourage moms with creative ideas for products, it awards up to $15,000 to as many as 8 women to move forward making their idea a reality. Other companies that cater to women, moms and parents in general also sometimes create special award programs to support women and their businesses (or dreams of a business). Keep an eye out for your favorite brands to see if they run a similar promotion or contest to help get your business started - don't throw out those fliers you get before you read them!
Amber Grants: This appears to be a solo operation with an owner who awards small grants ($500-$1500) in honor of a younger sister. Past winners and contact information are listed and the awards appear to be legitimate though the application requirements are minimal and very informal. As always, proceed at your own risk. To apply you must pay a fee—which is not typical—of $7. A detailed business plan is not required—just register and then answer some simple questions about your motivation, your idea, how you would use the funds if awarded and any other information you'd like to provide. Learn more about Amber Grants and consider contacting previous winners before you proceed.
News: Federal Express Grant Contest: OK this one isn't just for women but it is for small businesses. Federal Express is giving out $75,000 in small business grants in its recently announced contest. Entries can be submitted until Feb. 12, 2015. You are eligible if you're a citizen of the U.S., your business is in one of the 50 states or Washington DC, you have less than 100 employees and you're not a franchise. Just answer some questions about your business and what inspired you to start it, upload your logo and up to three optional photos that represent your business, provide some documentation and you're in. Get details about the FedEx Grant Contest.